Clinical Education
HEALTH REQUIREMENTS
All students enrolled in the AT Program are required to complete a medical history questionnaire and a physical examination by a physician to verify that the student is able to meet the physical and mental requirements-with or without reasonable accommodation-of an athletic trainer. The physical exam is required by the start of clinical rotations. These are used in part to demonstrate that the student is able to meet the technical standards adopted by the AT Program. All registered students must meet the University's immunization requirements. In addition, it is suggested that all students receive a Hepatitis B vaccine.
The physical examinations are submitted to the Program Director and Clinical Education Coordinator.
The immunization records are maintained by the Student Health Center.
The Technical Standards form containing the signature of the ATS documenting acknowledgement of this requirement is maintained by the Program Director of the AT Program. Students resign this form annually.
Flu Shots, COVID vaccinations and TB Testing are curently required for all hospital clinical education hours. Please see Coordinator of Clinical Education regarding dates for flu-season vaccinations.
All records are kept confidential and will not be released without the student's permission or court order.
Flu shots are required for on-campus participation (including but not limited to classes, clinical affiliations, student organizations, and lab participation) as per the University of Miami Student Health Center Guidelines
Useful Links: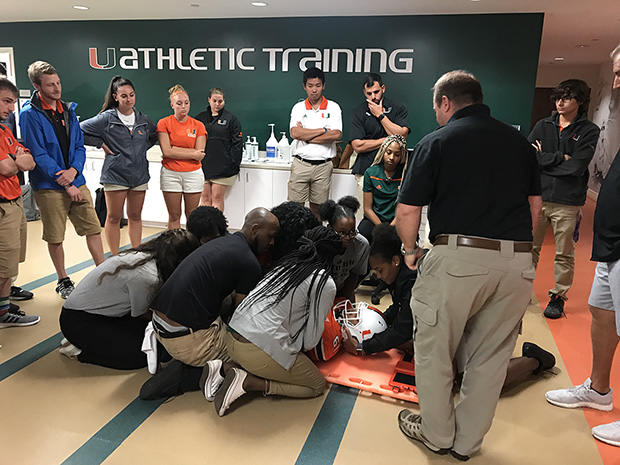 The students will receive clinical experiences at local colleges, high schools, and sports medicine clinics. Attempts will be made to affiliate with professional teams, and other organizations and special events in the community. In all clinical rotations, students will be supervised by a certificated and state licensed Athletic Trainer or Physician whom is a preceptor associated with the University's Athletic Training Program.