Observation
The candidate must be able to observe demonstrations and experiments in basic and applied sciences, including, but not limited to human anatomy and physiology, neuroscience, as well as in didactic courses in Athletic Training theory and practice for normal and pathologic states. A candidate must be able to observe a patient accurately at a distance and close at hand. Observation requires the use of common sense, as well as the functional use of the senses of vision, audition, olfaction, and palpation.
Communication
A candidate must be able to elicit information from patients, describe the patient's mood, activity and posture, and perceive and accurately report nonverbal communications. A candidate must be able to communicate effectively and sensitively with coaches, administrators, patients and their families. Communication includes not only oral, but also reading and writing. The candidate must be able to communicate effectively and efficiently with all members of the health care team in both immediate and recorded modes.
Motor


Candidates should have sufficient motor function to elicit information from patients by palpation, auscultation, percussion, manual positioning of body segments and other evaluative procedures. A candidate must be able to do basic screening and examinations (physiological measures such as BP, HR and respiration), diagnostic procedures (palpation, manual muscle testing, goniometry, ligament laxity testing, sensory evaluation, gait analysis, balance assessment), and review X-rays. A candidate must be able to lift an adequate amount of weight (approximately 50 pounds) in order to assess and lift a patient as necessary.  A candidate must be able to execute motor movements reasonably required to provide general care and emergency treatment to patients. Examples of emergency treatment reasonably required of Athletic Training students are cardiopulmonary resuscitation, spine stabilization for head or neck injury and application of pressure to stop bleeding. Additionally, candidates must be able to perform debridement of wounds and other physical assessment maneuvers, where such actions require coordination of both gross and fine muscular movements, equilibrium and functional use of the senses of touch and vision.
Conceptual-Integrative and Quantitative Analysis

These abilities include measurement, calculation, reasoning, analysis, synthesis, and retention of complex information. Problem solving, the critical skill demanded of Athletic Training practitioners, requires all of these intellectual abilities. In addition, the candidate should be able to comprehend three-dimensional relationships and to understand the spatial relationships of structures.
Behavioral/Social Attitudes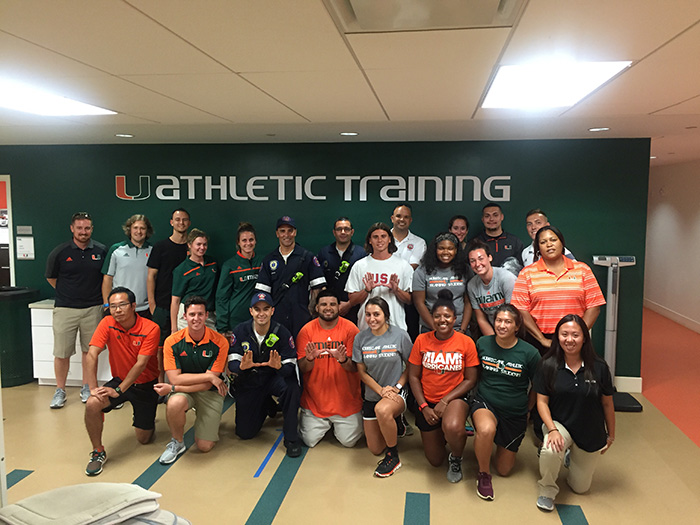 Candidates must possess the emotional health required for full use of their intellectual abilities, the exercise of good judgment, the prompt completion of all responsibilities attendant to an evaluation, diagnosis and care of patients, and be able to develop mature, sensitive and effective relationships with patients. Candidates must be able to tolerate physically-taxing workloads and to function effectively under stress. They must be able to adapt to changing environments both indoor and outdoor, display flexibility and learn to function in the face of uncertainties inherent in the clinical problems of many patients. Compassion, integrity, concern for others, interpersonal skills, interest and motivation are all personal qualities that are assessed during the admissions and education process.
Completion of the program's technical standards does not guarantee a student's eligibility for the Board of Certification (BOC) exam.
Students requesting accommodation to meet the technical standards must contact the Office of Disability Services prior to the start of the program or immediately upon a change in health status.